What sort of name is Landvik?
Norwegian.  My mother's family was from the Valdres Valley area and my dad's from Telemark.  I never thought much of my heritage (Minnesota reeks of Scandinavians) until I went to Norway at seventeen and man oh man, did I appreciate all those good-looking Norske menn — even the two fodder farmers who took my friend to a topless cabaret (we thought we were going to see jugglers).  I am proud to be a descendant of a country that is so forward-thinking and takes care of its people.  Also I like the color blonde.

Where were you born?
In the great and wild state of North Dakota.  We lived in East Grand Forks, Minnesota at the time, but had to cross the river to the hospital in Grand Forks.  It was a blizzardy December day and labor and concerns about the weather caused my mother to throw up all over her fur coat. (in those pre-PETA days, a lot of Midwestern moms wore fur coats, but of the rabbit/beaver kind, not the mink/sable).

What is your degree in? 
I have many degrees of– irony, empathy, impatience, etc. – but no degrees in, the University I attended withholding one as punishment, I guess, for dropping out.  I have since awarded myself several doctorates, but I can't say my standards are exactly rigorous.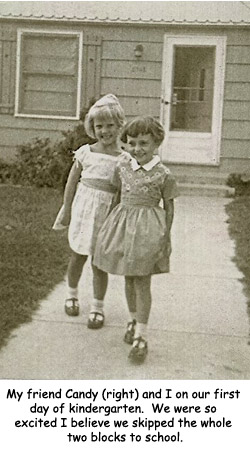 Do you have any pets?
We're looking!  It's been hard to replace the very handsome and regal Julio, the half-Lab, half-Brit whose fur was the softest,
whose temperament was the finest (ranging from kooky to blasé to delighted), and whose companionship on long walks was every faithful and sorely missed.

Are you married and do you have any kids?
Yes, one husband; two daughters; all of them pretty fabulous.

Who were your early influences as a writer?
When I was a girl, I thought Maud Hart Lovelace wrote the 'Betsy-Tacy' series for me.  Even though the books were set in the early 1900s, I was Betsy, the girl who wanted to be a writer and was able to talk her friends into mischief.  I also devoured the Little House on the Prairie books but in a cage match, believed Caddie Woodlawn would whup Laura Ingalls Wilder.

Who're your favorite writers?
I love Harper Lee and consider To Kill a Mockingbird an almost perfect book.  The writers that come immediately to mind are Mark Twain, Flannery O'Conner, Michael Malone, Ursula Hegi, Anne Tyler, Anne Marie McDonald . . . there are so many.

What are your writing habits/schedule?
I admire those who wake up, pour themselves a cup of freshly-brewed coffee from their pre-set coffee maker and charge into their writing day.  Me, I make my latte, settle down and read the papers, do the crossword puzzles, take the dog for a walk . . . if I work at all in the morning, it's closer to noon than to sunrise.  I do try – and by try, I mean make a genuine effort – at writing every day.  Lately, I've been working in the late night hours and I aim for a minimum of 1,000 words.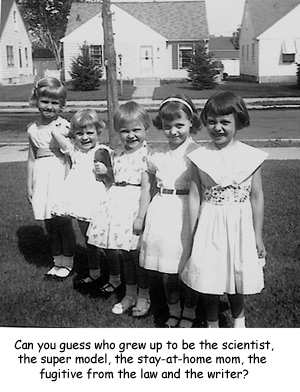 How long does it take you to write a book?
Usually about a year and a half, although the one I'm working on now is moving like the Concorde compared to an old prop plane.

Any movies in the works?  Casting ideas?
All of my books would make excellent movies, seeing as they're all hard-driving/action-oriented/spy thrillers in a near dystopian future with a few peopled with teenaged vampires comic Zombies thrown in for good measure.  Oh wait, I don't write those kind of books.  But mine would still make good movies!
PATTY JANE'S HOUSE OF CURL has been optioned for years and sometimes it looks like it's going to happen and then a producer moves to Belize to grow mangroves or an interested actress gets an offer to play a forensic scientist on a hit TV series.  If I were called upon to cast it (that'd be the day), I'd hire Rachel McAdams as Patty Jane and Elizabeth Banks as Harriet.  Oh yeah, and I'd play the crazed oral surgeon, Temple Curry.  Now that its sequel, ONCE IN A BLUE MOON LODGE has been released, we could have a two-picture franchise.  Aren't franchises big in Hollywood now?
OH MY STARS is set in the Great Depression and if Gwyneth Paltrow is tired of writing on her GOOP website and wants to get a good, meaty part:  Gwnyeth, look no further than playing Violet Mathers.  And your mother, actress Blythe Danner would be excellent in the role of Leola!
I've written a script for YOUR OASIS ON FLAME LAKE; I just need a producer to buy it.  This would be a dream on many fronts, including the fact that a sold script would get me entry into the Writers' Guild, which I hear has a good dental insurance.
A director with an aptitude for special effects as well as comedy would have a great time with MAYOR OF THE UNIVERSE, which features form-changing aliens and a mild-mannered actuary who time-travels.
My other novels, WELCOME TO THE GREAT MYSTERIOUS, THE TALL PINE POLKA, ANGRY HOUSEWIVES EATING BON BONS, THE VIEW FROM MOUNT JOY and 'TIS THE SEASON (holiday fare, anyone?), are all fodder for fine film (say that ten times fast).  Of course, I'm very excited about BEST TO LAUGH, my book about a young woman doing stand-up comedy in Hollywood.   Do I have to hit you over the head, producers? —   This would make a rollicking good movie.

Where do you get your ideas?
I buy them from the Idea Man; two for a dollar.  Early in my career, he tried to sell me an idea about a girl with a dragon tattoo, but I bought the idea for The Tall Pine Polka instead.  When he's out on the road, selling stuff I declined to J.K. Rowling or Suzanne Collins, I scavenge around and find ideas in roadside cafés, in a whiff of pipe smoke or ripe peaches, in an autumn vista, in a song fading out on the car radio, in the stillness of my monkey mind.

What did you do before you became a writer?
I have been a maid in a hotel in Bavaria, a waitress in many restaurants, including one in West Hollywood where I once accidentally dropped a porterhouse steak down the silk-shirted back of the most-gracious customer ever, who not only accepted my deep apology and wet cloth, but tipped me 30%.  I have also temped in dozens of places, including record and television companies (fun), insurance agencies (medium fun) and The Playboy Mansion (weird).

I saw one of your shows and loved it.  How come you don't do more?
Thank you for asking; your check's in the mail.  I love to perform and put on a show called 'Party in the Rec Room' once a year at the uniquely wonderful Bryant Lake Bowl theater in Minneapolis.  It's an all-improvised show based on audience suggestion and the fact that I make margaritas on stage and distribute them might explain its popularity.  Writing is my first love, but acting definitely is my alluring mistress.  While I enjoy a meaty, dramatic role, to me there's nothing more satisfying than making a roomful of people snort beer up their noses as they laugh.  This is a scenario I would love, as they say, to make manifest:  taking 'Party in the Rec Room' on the road; performing at night and coming back to my 4-star hotel, ordering room service and working on a novel into the wee hours.  Ahhhh.