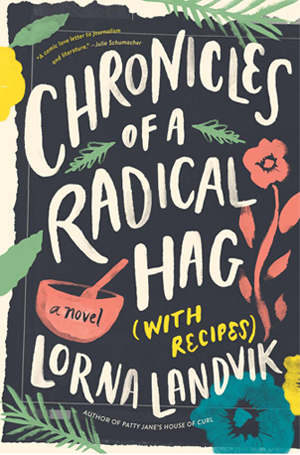 CHRONICLES OF A RADICAL HAG (WITH RECIPES)
When Haze Evans's column first appeared in the pages of the Granite Creek Gazette, she earned fans by writing a story about her bachelor uncle who brought a Queen of the Rodeo to Thanksgiving dinner. Now, fifty years later, when the beloved columnist suffers a massive stroke and falls into a coma,publisher Susan McGrath fills the void (temporarily, she hopes) with Haze's pasts columns, along with the occasional reprinted responses from readers.
With her customary warmth and wit, Lorna Landvik summons a lifetime at once lost and recovered, a complicated past that speaks with knowing eloquence to a confused present. Her topical but timeless CHRONICLES OF A RADICAL HAG (WITH RECIPES) reminds us — sometimes with a subtle touch, sometimes with gobsmacking humor — of the power of words and of silence, as well as the wonder of finding in each other what we never even knew we were missing.


Landvik uses wisdom and her trademark humor to encourage readers to a have a thoughtful response to the world and the people with whom they share it. A pleasure to read.
—Kirkus Review